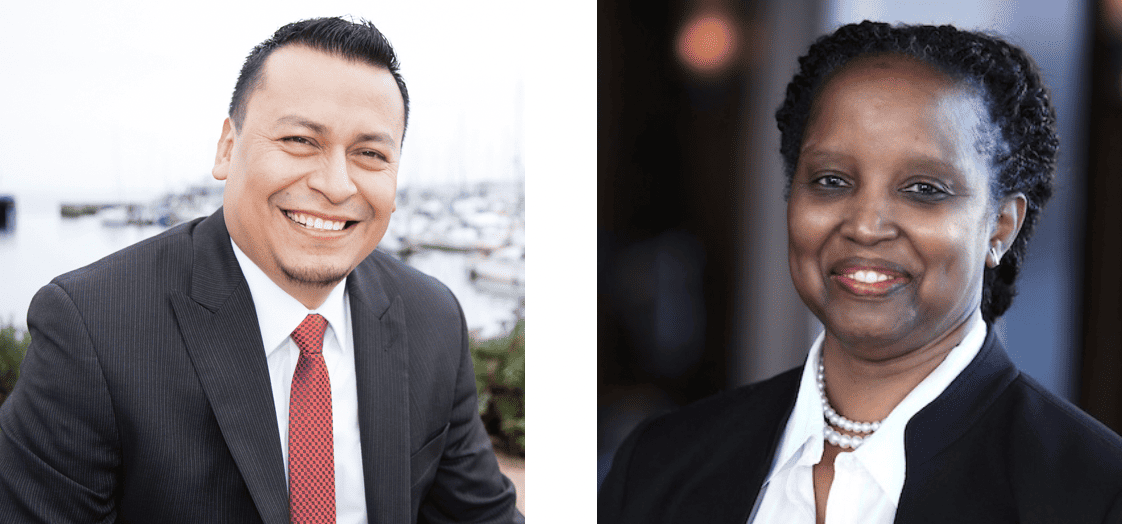 For more than two decades, Franco Vásquez has made career moves that might surprise his teenage self. He'd considered working in digital design, but a high school dishwashing job led to bussing and serving opportunities. Those roles sparked a management interest. Vásquez steadily climbed the ranks, diversifying with restaurant and housekeeping leadership positions before landing in catering.
Today, as the Portola Hotel & Spa's food and beverage manager, Vásquez enjoys the puzzle of planning events and providing stellar service—whether he's working with conference groups or welcoming Monterey County Hospitality Association (MCHA) members at the annual gala held at the hotel in March.
"I love banquets because it's a totally different function every time. In restaurants, it's kind of the same routine, but banquets have so many groups and moving parts," he says. "I tell my staff to always expect the unexpected."
Vásquez believes that supporting his team is as important as serving customers. His goal is to be the manager he never had. He's driven to create a positive work environment, mentor others and help colleagues succeed.
Those personal connections and professional opportunities brought Vásquez back to hospitality after a brief real estate detour.
"I love this industry. After going out and doing something different, I knew hospitality was it for me," he says.
In Monterey County, more than 21,600 people work in dining, retail, guest services, golf, sales, marketing, housekeeping, hotel administration and other tourism fields. Like Vásquez, Kui Maluki started in restaurants. She'd planned to be a lawyer but changed course after discovering an interest in food and beverage. Maluki worked as a hostess and waitress while attending Monterey Peninsula College, and then moved into hotel reservations.
She's since held various catering roles, earned her certified meeting professional credentials, and now directs catering and conference services at the Monterey Plaza Hotel & Spa.
"This is something that I fell into. I love working with food and planning parties for other people. There's joy in seeing an event on paper and then watching it come to fruition," Maluki says.
This month, Maluki's team is helping to host an MCHA hospitality job fair for high school and college students. She was also involved when Rancho Cielo students received professional outfits during an April MCHA clothing drive and career day at the Monterey Plaza.
"They went into a dressing room that we'd created, and when they came out with new clothes, they had ginormous smiles on their faces," Maluki says. "It touches my heart that we're helping give them the confidence to look their best as they go into job interviews."
She calls Monterey County's hospitality industry "one big family," and appreciates the camaraderie between professionals across properties and career levels. She also values tourism's endless opportunities.
"Whether you're a barista or a server or an executive, these are life skills that you will have forever. No matter where you go, you will always find a job."