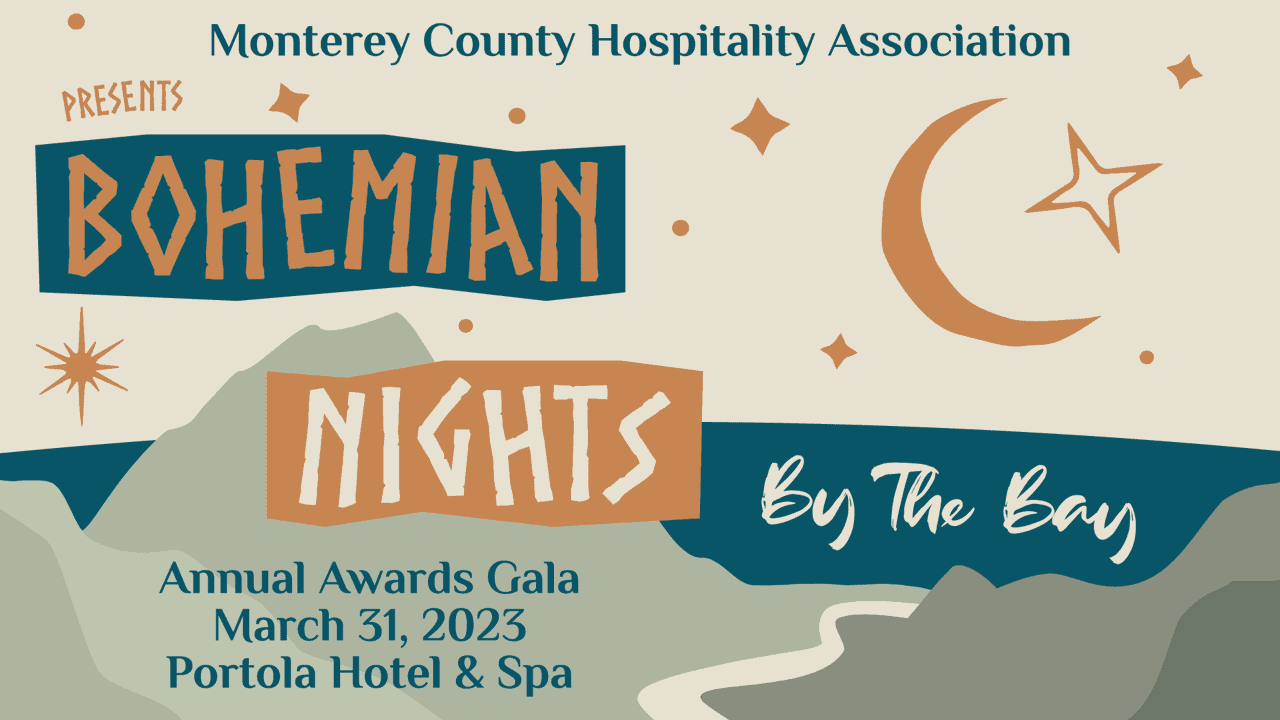 Annual Awards Gala, March 31, 2023
Portola Hotel & Spa at Monterey Bay
Monterey County Hospitality Association (MCHA) will honor the Hospitality Professional of the Year on Friday, March 31st at their Annual Awards Gala at Portola Hotel & Spa. This year's honoree, Chef Bert Cutino, CMC, Cofounder/C.O.O. of The Sardine Factory Restaurant will be recognized for his on-going service and commitment to the local hospitality industry.
Chef Cutino's contribution to the hospitality industry dates back many years. Born in Monterey, he graduated from Monterey Peninsula College with a degree in Business and went on to receive two Doctor of Culinary Arts in Honoris. He is the co-founder of the internationally famous Sardine Factory Restaurant and the Cannery Row Management Co., and over the years has gained national recognition and been the recipient of many awards, including the California Distinguished College Alumni Award, Humanitarian Awards, Diplomat from the California Culinary Academy, US Congressional Record, and local-regional-national Chef of the Year. Chef Cutino is an ACF Certified Executive Chef, Food Manager and World Certified Master Chef (WACS).
"My first volunteer encounter with Bert was in 1981 on the Monterey Peninsula Chamber's Visitor Industry Education Committee where he and a group of local business leaders led the charge to enlighten Peninsula residents about the benefits of hospitality," comments Carol Chorbajian, Managing Director of CCM&E Destination Services and long-time industry colleague of Cutino's. "Ever since that first encounter, I have always known him to be the 'go to' volunteer each and every time a major fundraising event for our industry or a local charity requires an assemblage of chefs to provide food & beverage. His consistently unmatched partnership with so many organizations has allowed every event that he touches to be a huge success. All of us in Monterey County owe him a huge debt of gratitude for the decades of tireless efforts that he has put forth for both our industry and the destination as a whole."
Certified Master by the world Master Chef Society in 1999, Chef Cutino has been awarded many gold medals in competition and been recognized in nine Halls of Fame. He has also been recognized by Nations Restaurant News as one of the "NRN 50, The New Players," and again in 2007 as the "NRN 50, The Influencers of the Restaurant Industry" and is committed to the future of the hospitality industry through education. In 2009, he was honored with the College of Diplomates Award by the National Restaurant Association Education Foundation for his work in the industry with students seeking a career in the culinary arts, and has many times been honored as Distinguished Speaker for Culinary Schools. He is also a national and state Culinary Judge for the ProStart Culinary Program for high-school students sponsored by the state and National Restaurant Association Education Foundation.
"What Bert has done for our industry is extraordinary. For years, he has dedicated himself to be one of the top chefs in the country, while continuing to give back to his community," adds Janine Chicourrat, Portola Hotel & Spa General Manager and Board Chair at Rancho Cielo. "A perfect example is his work at Rancho Cielo. The culinary program he helped to create has given countless students the opportunity to succeed in life and has created a career path that supports our hospitality industry in Monterey County."
Chef Cutino developed and co-founded the Drummond Culinary Academy at Rancho Cielo in Salinas for wayward young people who seek a career in the hospitality industry, from chefs to management. He is Co-Chairman of the annual fundraiser, which has raised approximately $400,000 each year. In 2012, the American Culinary Federation, at its Western Regional Conference, honored him with the first Cutting-Edge Award for his contributions to the Drummond Culinary Academy.
Bert has been married to his lovely wife Bella for forty-eight years as of 2020. They have two sons, Marc and Bart Cutino, daughter in law Kim Cutino and two grandchildren, Bella Michele, and Tony. Read full bio below.
Monterey County Hospitality Association's mission is to protect the interests and serve as the voice of the hospitality industry throughout Monterey County, by maintaining strong partnerships with local government, elected officials and community groups. We work to ensure the overall vitality of our industry by providing education programs for our workforce, employee recognition and advocate for the over 20,000 employees that represent industry.