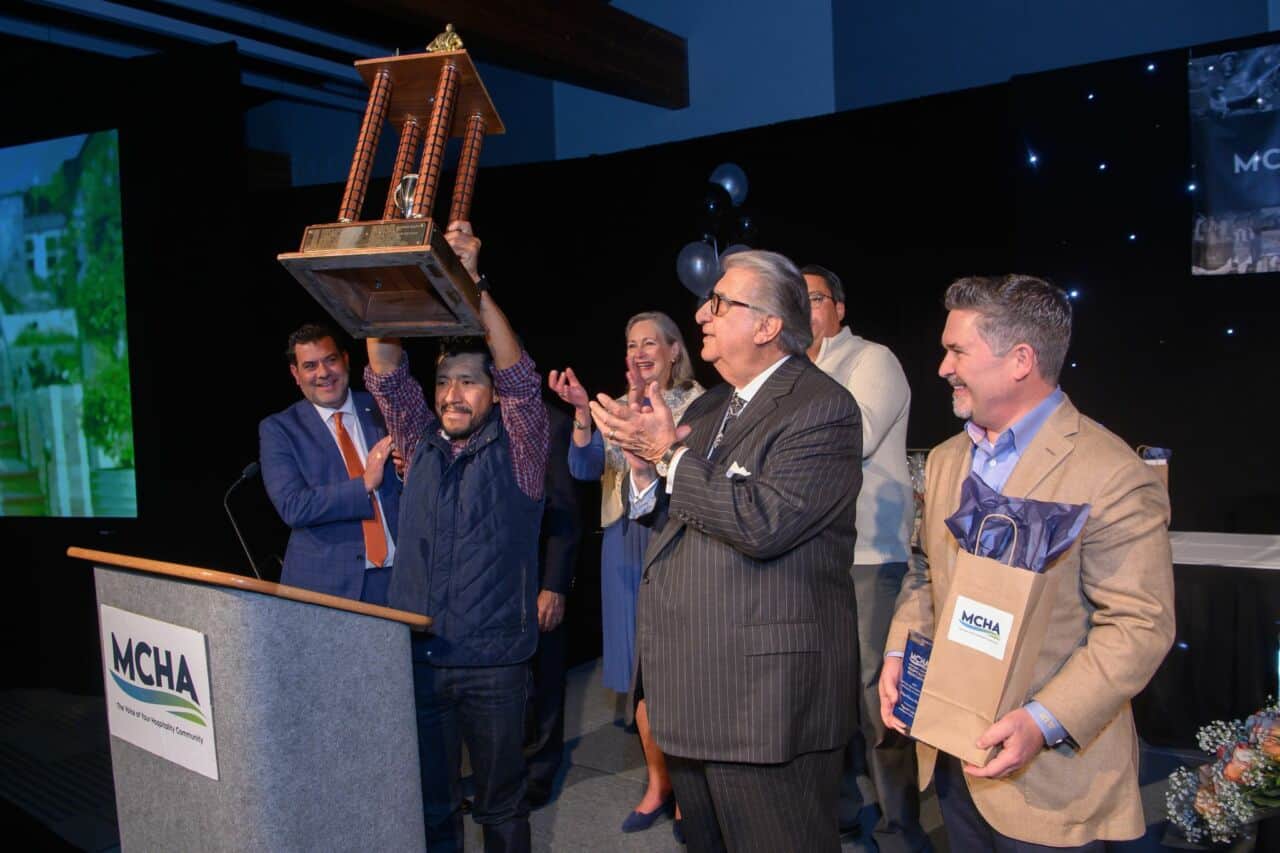 Monterey County Hospitality Association - 2022 Papa Vince Award Recipient
Once in a great while, tragic circumstances present us with a challenge for which we cannot prepare. In these unthinkable moments, one of the most powerful roles a leader can play is in helping people to find their own resilience and building a culture of encouragement. That leader is Miguel Lopez.
The valet team at Bernardus is small, usually six, maybe seven people strong in the summer months. They are the first face the guest sees upon arrival, providing the immediate warm welcome that sets the tone for the entire stay. The bell team is also the last smile when that guest departs; waving goodbye and sharing wishes for the guest to return soon. For more than 20 years, Tim Sherman, as Bell Captain and Miguel Lopez as valet were the pillars of the arrival and departure experience. They were opposites – each with very distinctive strengths. A lead singer & a guitarist. Tim was the loud one, with a booming laugh – Miguel, meanwhile stood back with a sweet smile always maintaining a professional demeanor. Where Tim was spontaneous, Miguel was organized. Together, they were Batman & Robin. Two tenured hospitality titans, with all of the authentic personality, charm and instinct to make it look easy. For more than two decades, Tim & Miguel were brothers in arms – embodying loyalty and dedication above all else. And their daily duet became an essential Bernardus experience for loyal guests and locals alike.
Then, last July, Tim Sherman tragically passed away without warning. The team at Bernardus was engulfed in grief and disbelief. As in shock as he was, Miguel was resilient, calm and open-hearted. From his home, he fastened a simple black ribbon to his uniform as a symbol of remembrance and mourning – and returned to work. And he listened and listened and listened. Every local, every returning guest, every associate has a story about Tim. And Miguel gave them each the gift of an open ear – along with grace and dignity as he took the time to truly hear what they were saying. It wasn't answers or advice that they sought; it was the opportunity to connect with someone who would truly understand. He gave out hundreds of hugs, gentle laughs and endless kindness. More than anything, Miguel showed us all that it is possible to live, smile and grieve at the same time.
For months, Tim's position of Bell Captain remained open and unfilled. Despite encouragement, Miguel decided to pass on the opportunity, preferring to remain in his position as valet. In December, Miguel shared that he was ready to take the reins and accepted his new role. His promotion to Bell Captain has never been about filling Tim's shoes – we all know better than to ever compare the two. His promotion is about genuine leadership and Miguel's unrelenting commitment to our guests, to Tim and to the greater Bernardus team. For the last year, Miguel has encouraged his team to aspire to even higher levels of service – an incredible shift that has been recognized by our guests and associates.