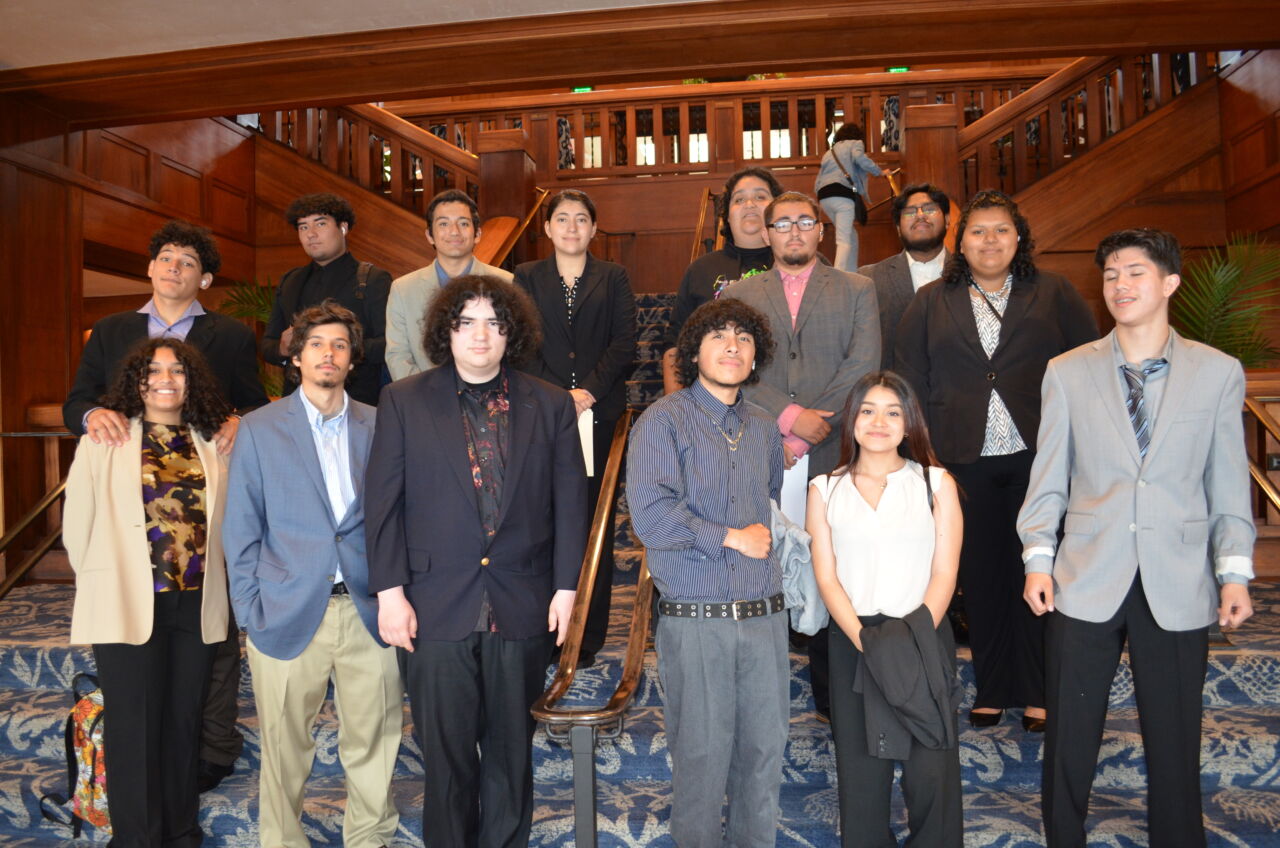 Leading employers guide local Rancho Cielo, high school and college culinary students to explore careers in hospitality.
More than twenty leading hospitality employers welcomed Rancho Cielo and local area students on May 16 for Monterey County Hospitality Association's (MCHA) Hospitality Career Fair at the Monterey Plaza Hotel & Spa. The Career Fair marked the culmination of an annual ongoing partnership between MCHA and Rancho Cielo Drummond Culinary Academy, where students and industry professionals engaged in career building activities.
Since August, MCHA and its Rancho Cielo Committee, have worked with Rancho Cielo Drummond Academy Program Director Mark Bruszer and students to coordinate one-on-one mentorships, job shadowing and hosted white table-cloth dinners. This spring MCHA gathered professional attire for students, and volunteers assisted with fittings and tailoring at a Clothing Drive & Career Day. Students also received career coaching, LinkedIn support and mock interview practice with human resource professionals.
As the students complete the customized educational and vocational plans, they learn about responsibility and work ethic. Some graduates go on to culinary academies or universities. Others are hired by local hotels and restaurants, where they receive additional training as they transition into professional roles. The Hospitality Career Fair on Tuesday encouraged the students to engage and connect with employers regarding open jobs in hospitality.
"We are especially proud to support the Rancho Cielo Clothing Drive & Career Day/Hospitality Career Fair because we have seen firsthand the incredible potential of these young adults," adds Chris Sommers, Monterey Plaza Hotel & Spa general manager. "One of our own, Sam, is a graduate of Rancho Cielo and is now a critical part of our leadership team as an engineering manager. Sam's success is a testament to the power of education, job training, and mentorship. We know that there are many more young people like Sam out there, and we are committed to doing our part to help them succeed."
The MCHA experiences throughout the year and personal guidance are equally important, explains Drummond Culinary Academy Program Director Mark Bruszer.
"These are great kids, but many lack the structure and stability we might take for granted. They just need extra support and encouragement," he says. "The MCHA programs and partnerships add to our curriculum at the Drummond Academy and give the students that first-hand experience that is so important."
This year for the first time, MCHA expanded the job fair to include students from other culinary programs in the county, such as Monterey Peninsula Unified School District, Monterey Peninsula College and CSUMB's Sustainable Hospitality Program. The Hospitality Career Fair offers students an opportunity to explore career paths in the hospitality industry beyond culinary, including: security, valet, IT, golf, floral, equestrian, audio visual, housekeeping and administrative.
2023 participating hospitality businesses included: Bernardus Lodge & Spa, Mirabel Hotel & Restaurant Group, Hyatt Regency Monterey, Escape Room 831, Portola Hotel & Spa, Post Ranch Inn, Monterey Salinas Transit, Pebble Beach Company, Monterey Bay Aquarium, Inns of Monterey, Quail Lodge & Golf Club, WeatherTech Raceway Laguna Seca, Carmel Mission Inn, Intercontinental The Clement, Monterey Tides, Monterey Marriott, SSA Group at the Monterey Bay Aquarium, Monterey Peninsula College , CSUMB College of Business, Monterey Plaza Hotel & Spa, and Folktale Group.